Alleria Windrunner: Ethereals, the Void, a Dark Naaru… I feel they are all connected.
I explored the ruins below while you and Velen were seeking the Crown. There are survivors, (name).
Broken wander the cluster of buildings to our west- I cannot understand much of what they say but I suspect that their minds are not their own.
If the Void is to blame, we will need to start our investigation there.
I will conduct my own search in the meantime.
Objectives
Investigate the Ruins of Oronaar.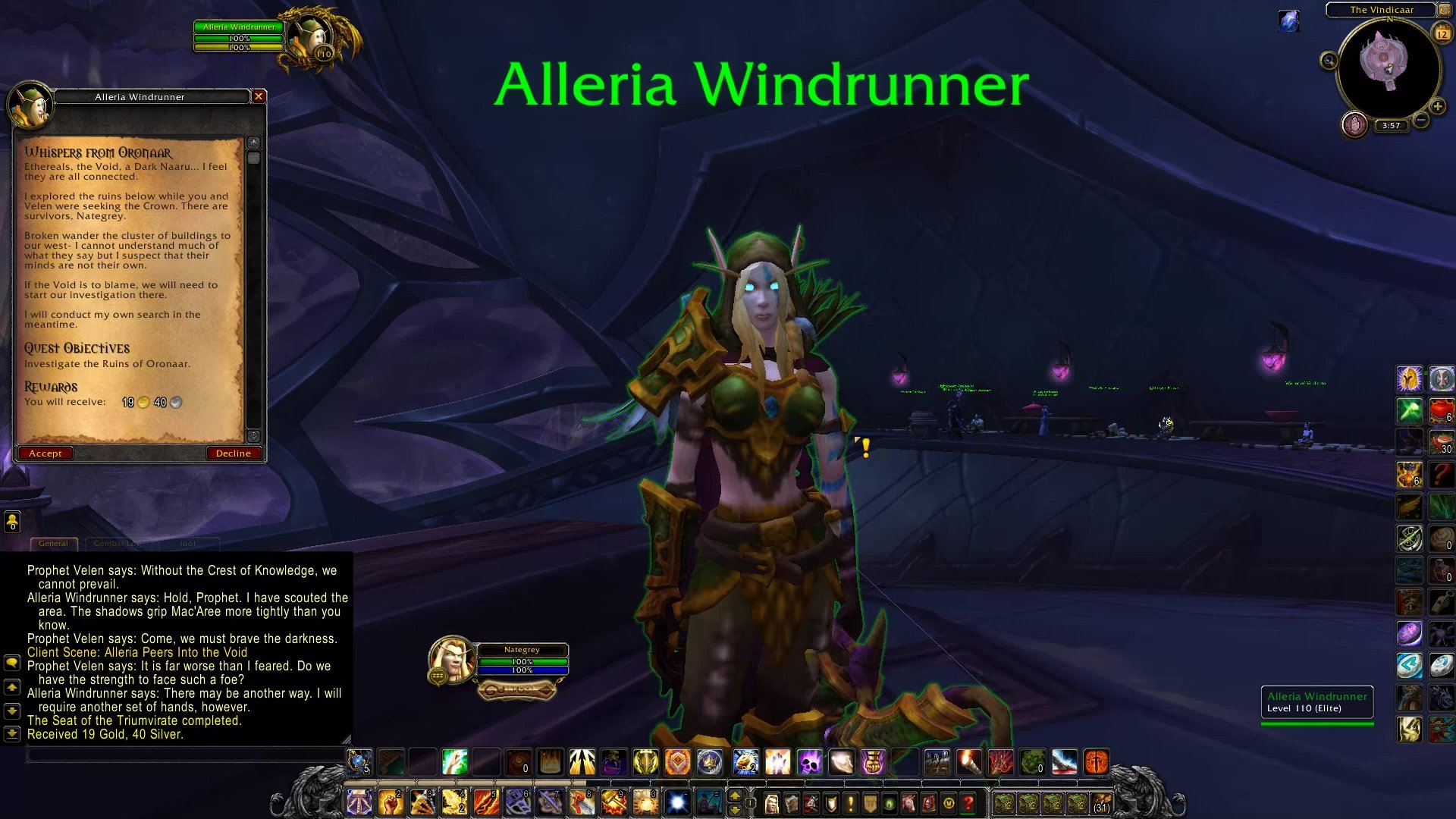 Progress
Alleria Windrunner: I will meet you in the ruins below, (name). We will begin where the darkness ends.
Editor's Note: Take the portal to the Triumvirate's End flightpath. Head out northwest to the first spot marked in the map.
Location: Triumvirate's End
Alleria Windrunner: It is as I thought. The Void's corruption has reached them here. I am certain it had help. Take a look around. call for me if you find anything of interest.
Echo of Arkhaan: Look inside yourself and see the strength your vigil has cultivated. Do not let the long, dark night break you. Accept its gift.
Editor's Note: In the mini-map there are three blue-circle marks. The one in the center is a red rune on the wall. Click it.
Wall scrawlings inspected: 1/1
Editor's Note: The Abandoned altar is inside a building on the southernmost blue-circle mark seen in the mini-map.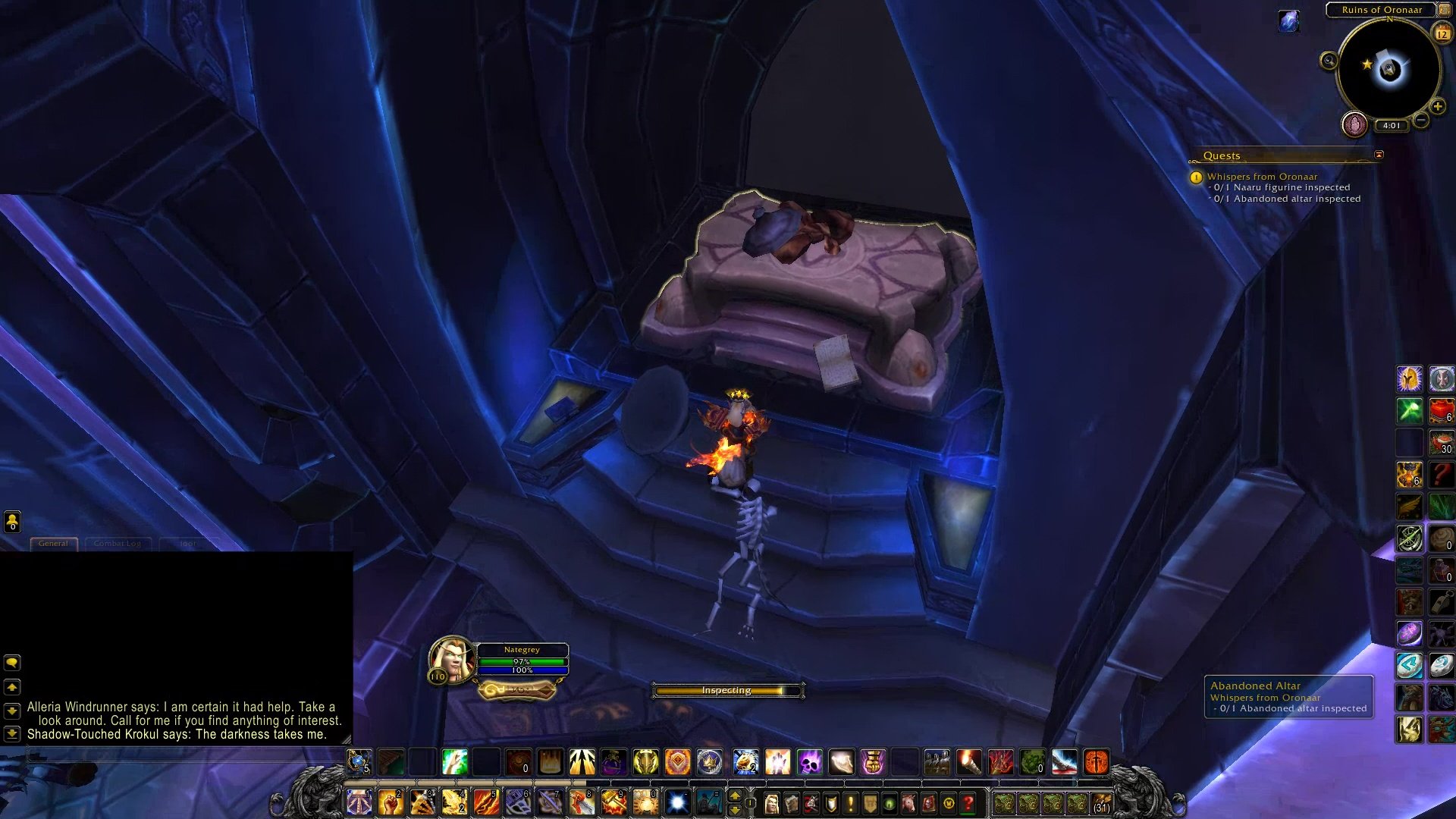 Abandoned altar inspected: 1/1
Shadow-Touched Krokul: The darkness takes me.
Echo of Arkhaan: You must hold fast to your resolve. Temptation weakens the mind and spirit.
Shadow-Touched Krokul: All that is must be undone! The Light… will fail.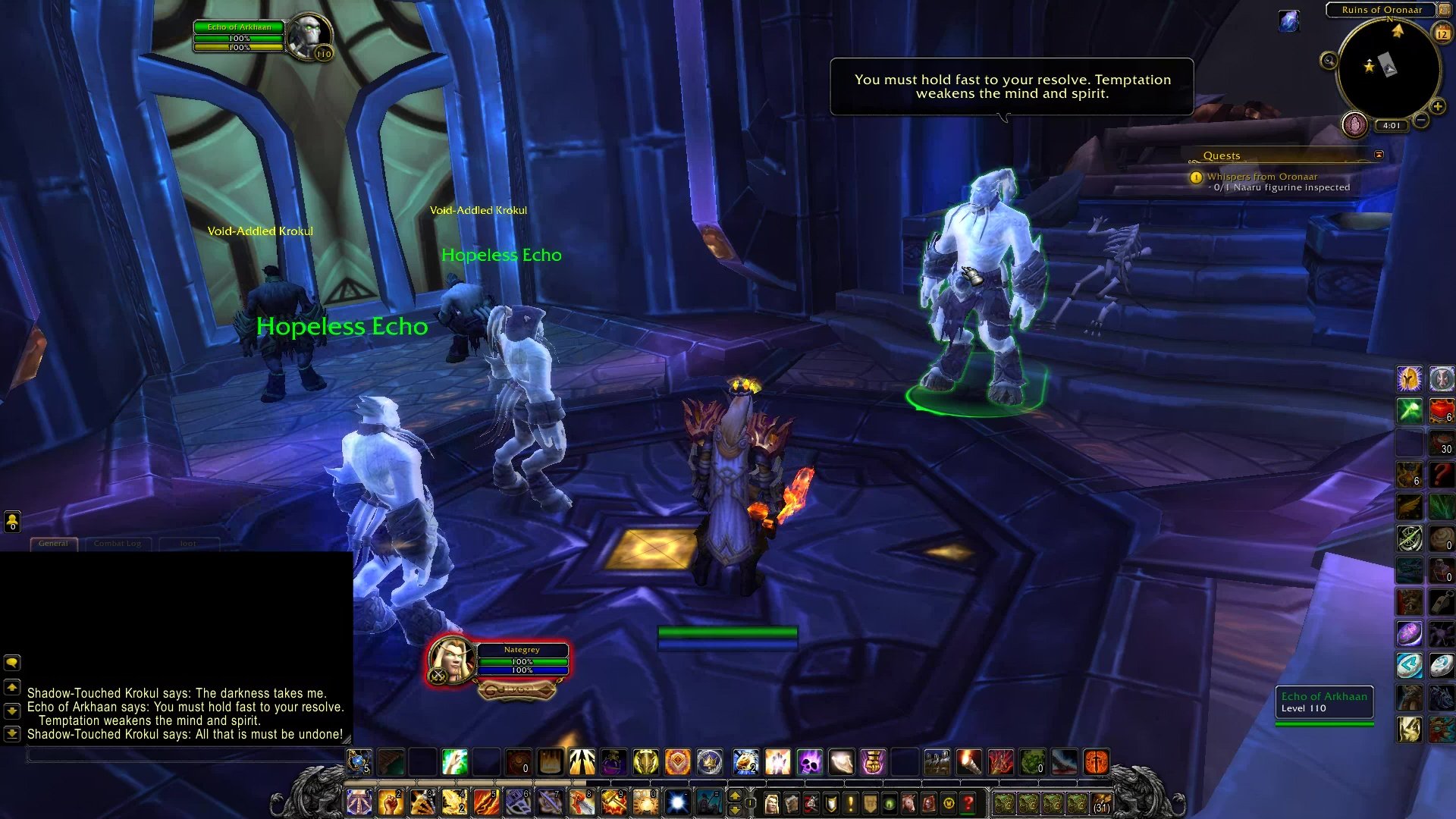 Editor's Note: The last objective is a Discarded Naaru Figurine. It is purple and lying on the ground.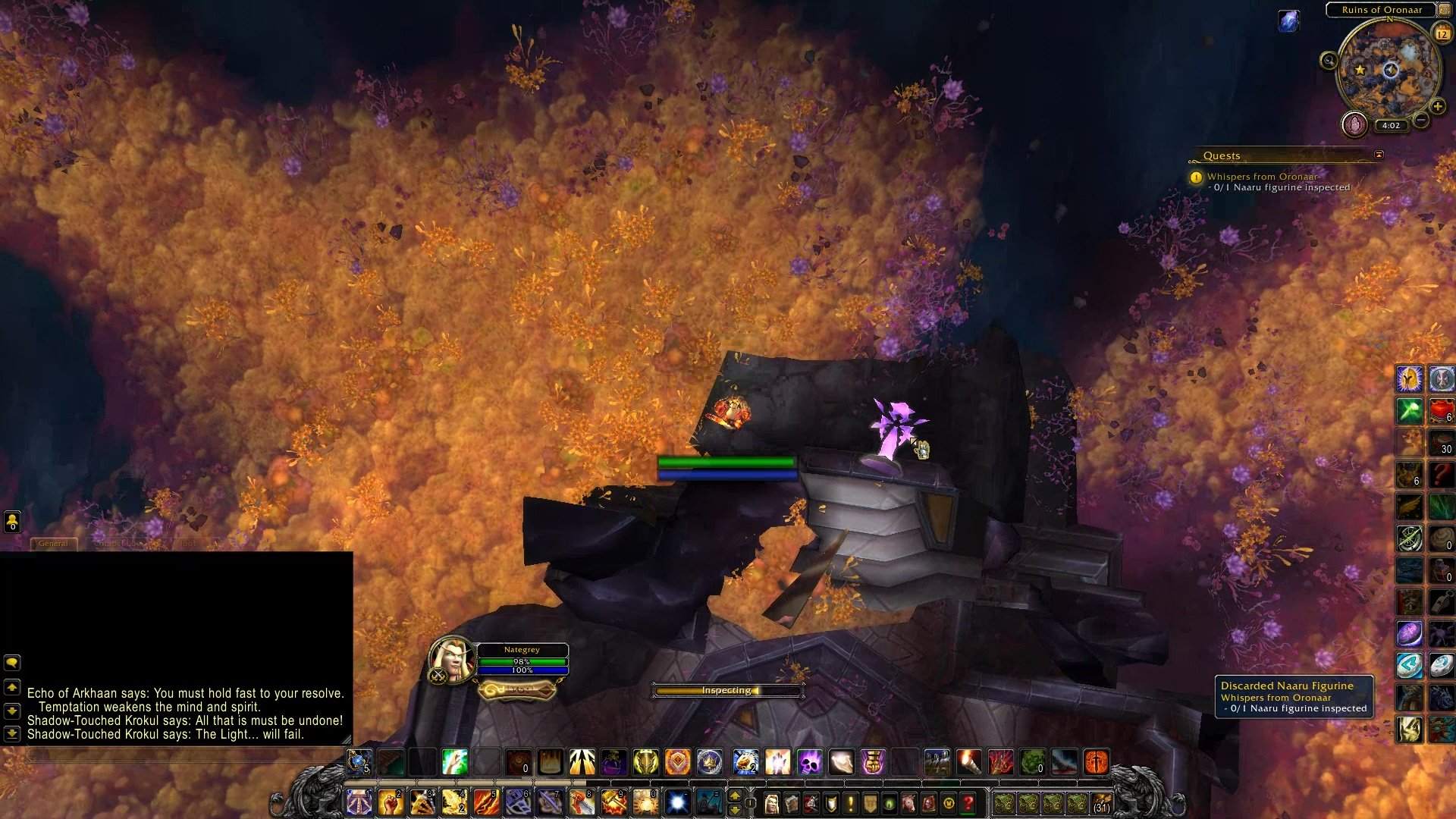 Discarded Naaru Figurine inspected: 1/1
Echo of Arkhaan: Look to the heavens above. See the million points of brilliance in the great dark beyond. Know you are not alone. Our salvation is out there, somewhere.
Alleria Windrunner: I found a survivor. Come to me.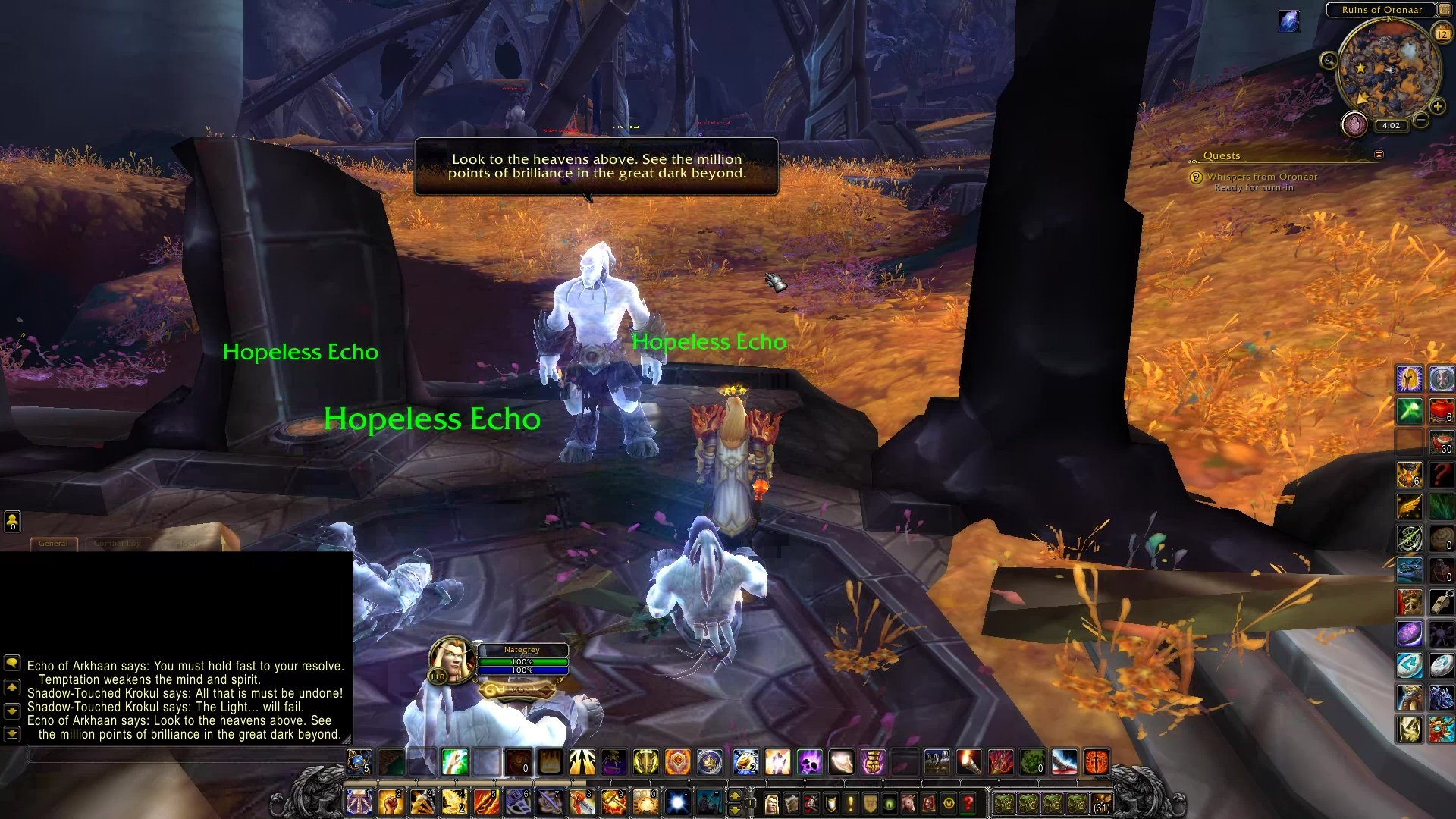 Completion
Alleria Windrunner: Something is very wrong here.
Whispers from Oronaar
Argus Zones