High Exarch Turalyon: That pit lord won't trouble our new allies any longer.
(Turalyon's brow furrows.)
Until another takes its place, at least. If there's one thing I've learned in our endless war against the Legion, it's to savor victories as you find them.
Come, let us take a moment to regroup back at your vessel. Alleria and I have been waiting a long time for a reunion with our son.
Objectives
Return to the Vindicaar.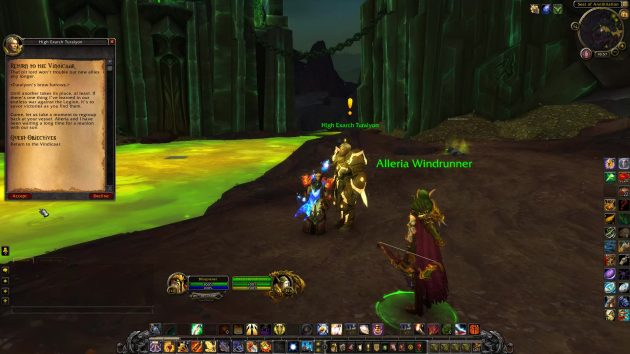 Progress
Alleria Windrunner: Every day for a thousand years, I've thought about what I wanted to say to him. Now, though… words fail me.
High Exarch Turalyon: I know, my love. I feel the same. But once we see our son, our hearts will speak for us.
Arator the Redeemer: But… couldn't you have reached out to us? To your people? To me?
High Exarch Turalyon: Arator… not a day passed that your mother and I didn't–
Alleria Windrunner: Every choice we made was to keep you safe. It broke our hearts to be apart from you.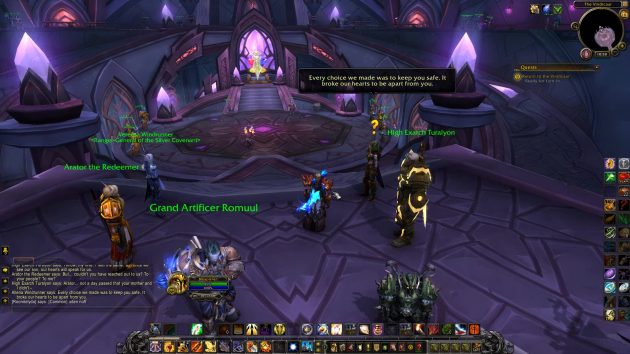 Completion
Alleria Windrunner: Our absence has wounded Arator. We knew it would. But we had to know that he was safe while we fought the Legion.
Now that we are reunited, I will not let us be separate again.
Return to the Vindicaar
Argus Zones