Alleria Windrunner: That… was intense.
(Alleria rubs her forehead.)
Ugh, I cannot focus. I need you to return to Velen. Give him this.
(She places something cold and dense in your palm.)
I feel as though he should have it, though I am not sure why.
Tell him all that we have learned. I am sure Romuul will have been watching our progress. With any luck a beacon is already headed our way.
Objectives
Take the Remnant of Nhal'atoth to Velen on the Vindicaar.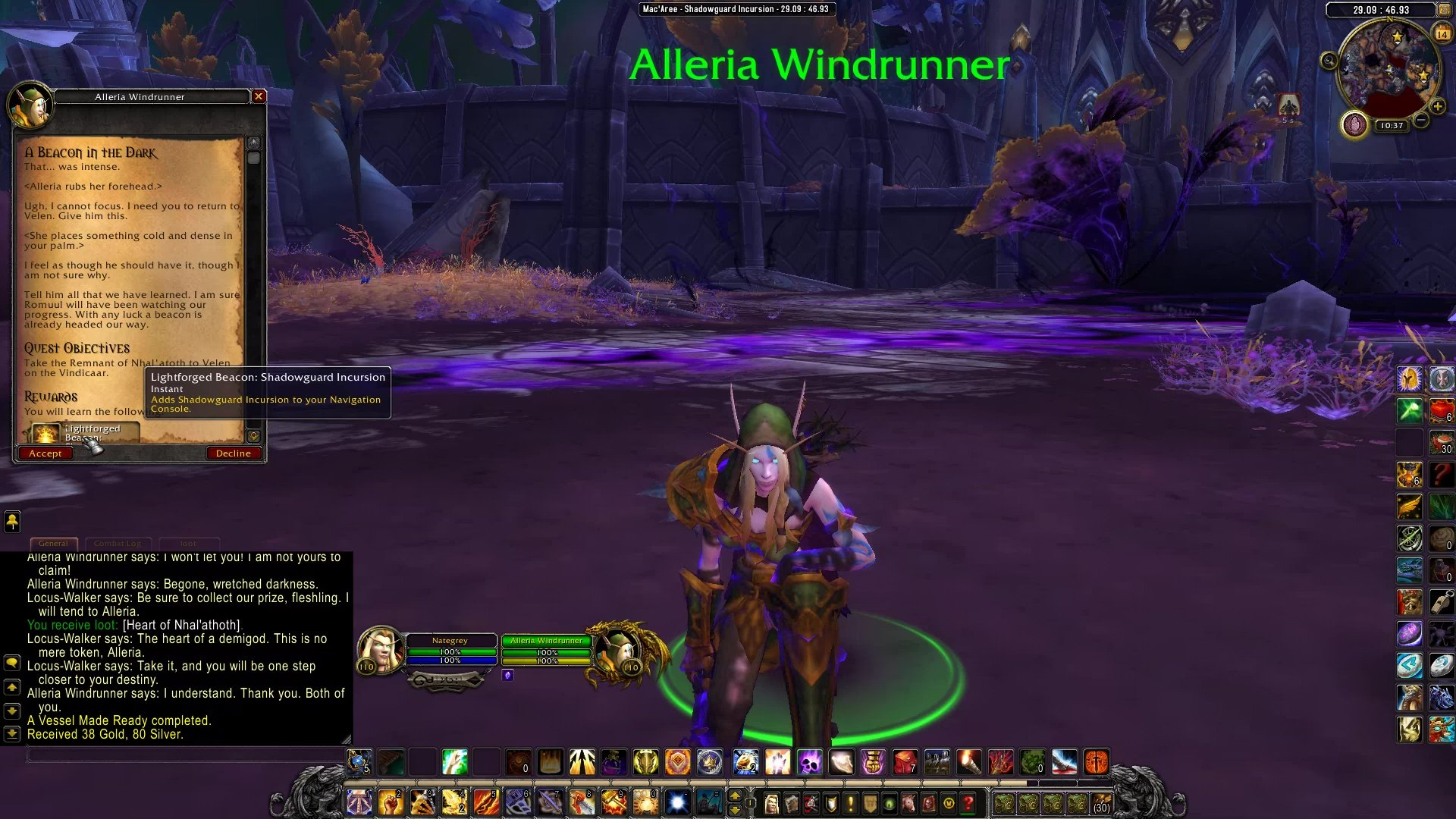 Progress
Grand Artificer Romuul: Ah, you're alive! A beacone is inbound.
Locus-Walker: How do you feel?
Alleria Windrunner: My head is… swimming.
Locus-Walker: Remember… So long as your mind is your own, you command this power. It does not command you.
Alleria Windrunner: How did you do it by yourself?
Locus-Walker: Ah, well. Perhaps I will tell you one day. Until then, I will be keeping an eye on your progress. Farewell for now.
Alleria Windrunner: You should return to the Vindicaar and share what we have learned. My path takes me into the Seat of the Triumvirate… to whatever fate awaits me there. I am certain Velen will understand.
Editor's Note: Click the Lightforged Beacon to teleport back to the Vindicaar. Go to Velen. He reacts to you holding the Remnant of Nhal'athoth: "Though depleted, a core of shadow remains."
Prophet Velen: What is this? Such darkness…
Completion
Prophet Velen: I watched from afar, though I do not understand all that I saw.
Reward: You will learn the following:

A Beacon in the Dark
Argus Zones