Prophet Velen: For all we have seen, we must remember not to dwell on the past, but to look forward and prepare for what is to come.
Take this opportunity to familiarize yourself with the Vindicaar.
Objectives
Speak with Artificer Shela'na, Thelbus Wimblenod, and High Priestess Ishanah.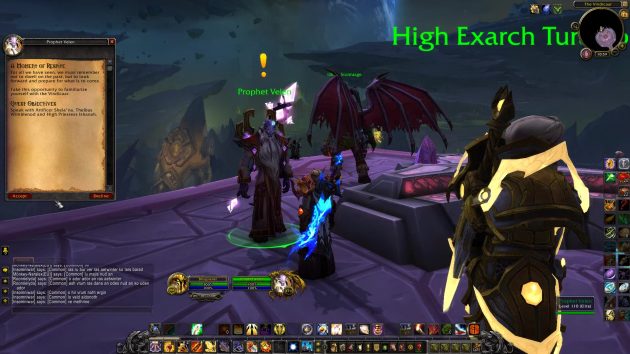 Progress
Prophet Velen: The Vindicaar will be the instrument of our retribution. As with any weapon, you should know it well before we charge into battle once more.
Artificer Shela'na: Greetings.
(What is that behind you?)
Artificer Shela'na: Behind me rests the Netherlight Crucible. It is an ancient remnant of this world that once served as a source of considerable magic.
Though its potential power is thought by many to be a gift, empowering it would require great sacrifice… as well as a delicate balance of Light and Shadow.
Speak with Artificer Shela'na: 1/1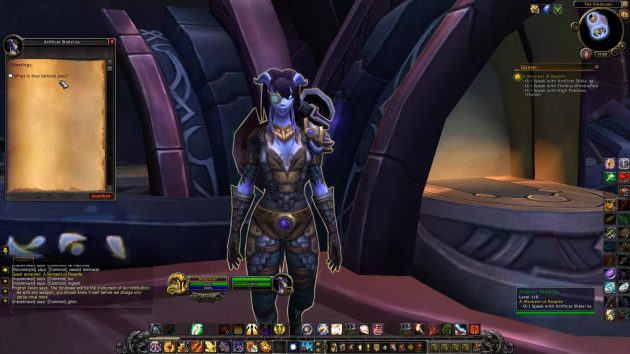 Thelbus Wimblenod: This place is full of magic and mystery.
(What is that behind you?)
Thelbus Wimblenod: That? Why that's just a portal I've conjured to allow safe passage to and from Dalaran.
Never know when we're gonna need reinforcements!
(Interesting… And why aren't you wearing any shoes?)
Thelbus Wimblenod: The cold flooring beneath my feet helps me maintain my concentration.
(But you're sitting down.)
Thelbus Wimblenod: Yes, well you got me there. Still comfortable regardless. Now if you'll excuse me, I've got quite a bit of reading to do.
Speak with Thelbus Wimblenod: 1/1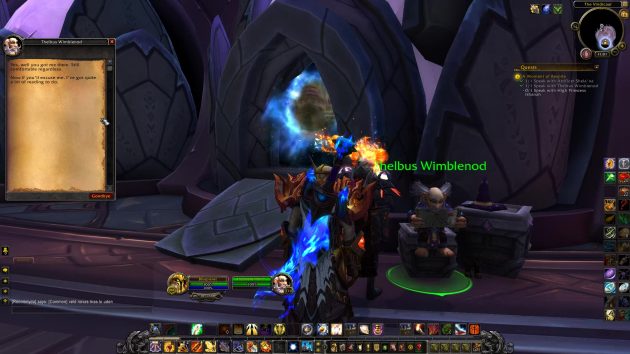 High Priestess Ishanah: Please, sit and make yourself comfortable.
(It is good to see you, Ishanah. How are you?)
High Priestess Ishanah: I am well, (name). Thank you for asking. Before you venture out to the fields of battle I wanted to make sure you know that my services are always available should you need a place to rest. Be well.
Objective Complete. Speak with High Priestess Ishanah: 1/1
Completion
Prophet Velen: Ready to continue on our journey?
A Moment of Respite
Argus Zones